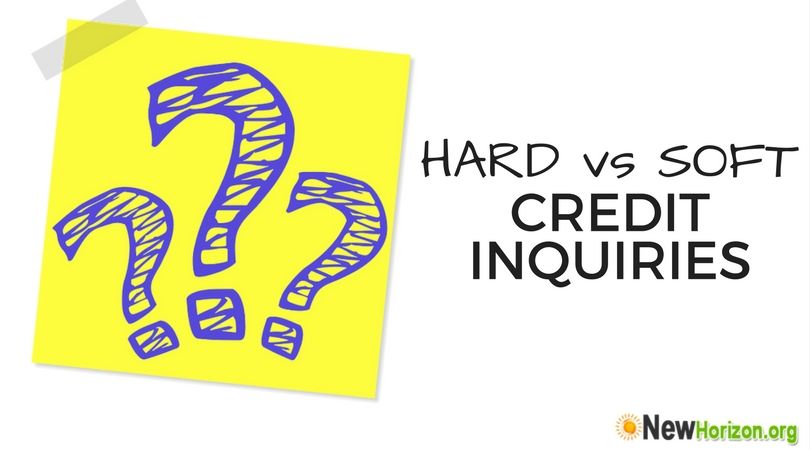 There are two main types of inquiries, which can appear on your credit report. These two types are known as hard inquiries and soft inquiries. Even though both these types of inquiries are in a position to enable a third party to take a look at your credit report, the hard inquiries are the only ones that can create a negative impact on the credit score.
What is a hard inquiry?
The hard inquiries take place when your credit card issuer, lender or financial institution takes a look at the credit report, before making a decision about lending. You will have to encounter a hard inquiry when you apply for a mortgage, credit card, or loan.
How many points does a hard inquiry affect credit score?
As per the financial experts, a hard inquiry has the ability to reduce your credit score by a few points. But if you have only a little established credit and you have a lot of inquiries in a short span of time, a hard inquiry will affect you more.  And a lot in a short period of time may make a lender think twice before approving you.
How long does a hard inquiry stay on your credit?
It would usually remain on the credit report for a period of two years. However, you don't need to worry about it because the damage caused to your credit score will decrease with time.
Why its important to monitor how many hard inquiries you have on your credit report
It is important for you to have a clear understanding of why hard inquiries hurt your credit score. If there are multiple hard inquiries, you will see your credit score decline.  If you have ever gone to a car dealership and let them find you financing, if you have less than perfect credit, then you may have DOZENS of inquiries on your credit report.  Each one brings down your score.  I've had a client who went to SEVERAL car dealerships and let them all run his credit.  In one month this dropped his score by more than 70 points!   Therefore, you need to be careful not to get multiple hard inquiries, especially if you get them within a short period of time.
How to remove a hard inquiry from your credit report
If there is a hard inquiry on your credit report from a company you don't recognize and didn't authorize to pull your credit, you need to do your research.  Find out who they are.  You want to make sure you truly didn't initiate the credit pull.  You also want to see WHY they pulled your credit.  It can be the first indication that someone has your credit information.
 Once you have gathered the information you need to open a dispute and tell the credit bureaus you didn't give permission to have your credit pulled.
Then if you suspect your credit is being used by someone else, you need to put a statement on your credit report warning creditors that you are a victim of identity theft.
Lastly, you need to get something like Lifelock (if you are a credit repair client, it's included with the credit repair services. Just activate it in your back office)  and make sure you get notified if anyone is trying to open accounts under your name and shut them down before they can be approved.  If the ID thieves are very aggressive. You may want to put a credit freeze on your account.
If it ends up being a company that you did indeed authorize to pull your credit, or if you decide you just don't want to do anything about it.  You will have to wait for a period of two years to get the inquiries to drop off your credit report.
What is a soft inquiry?
Last but not least, it is important for you to have a clear understanding of soft inquiries as well. A soft inquiry will not impact your credit score.  They can only be done by companies you give permission to run your credit.
A soft inquiry would take place when a company or a person takes a look at your credit report in order to mostly perform background checks. For example, when you are applying for a new job, a quick look at your credit report would be taken.  Many insurance agencies and utility companies also use soft inquiries.  There are even credit card companies that are utilizing soft inquiries for the initial credit review.  They understand that consumers with credit problems need to minimize the number of inquiries they have on their credit reports.
Final Words
As you can see, there is a clear difference between hard inquiries and soft inquiries. If you are trying to improve your credit, you must be careful when applying for credit.  Pick up the phone or shoot the company an email and find out if the credit pull will be a hard inquiry or a soft one.  If you are going thru a brokerage company, ask them how many people will have the authorization to pull your credit.  If they hesitate in answering you, put a limit on them AND take the time to write it on your application.   Initial your statement and have the broker do the same.  So when you dispute them, you have a copy of the application and tell them you authorized only X amount of credit pulls.