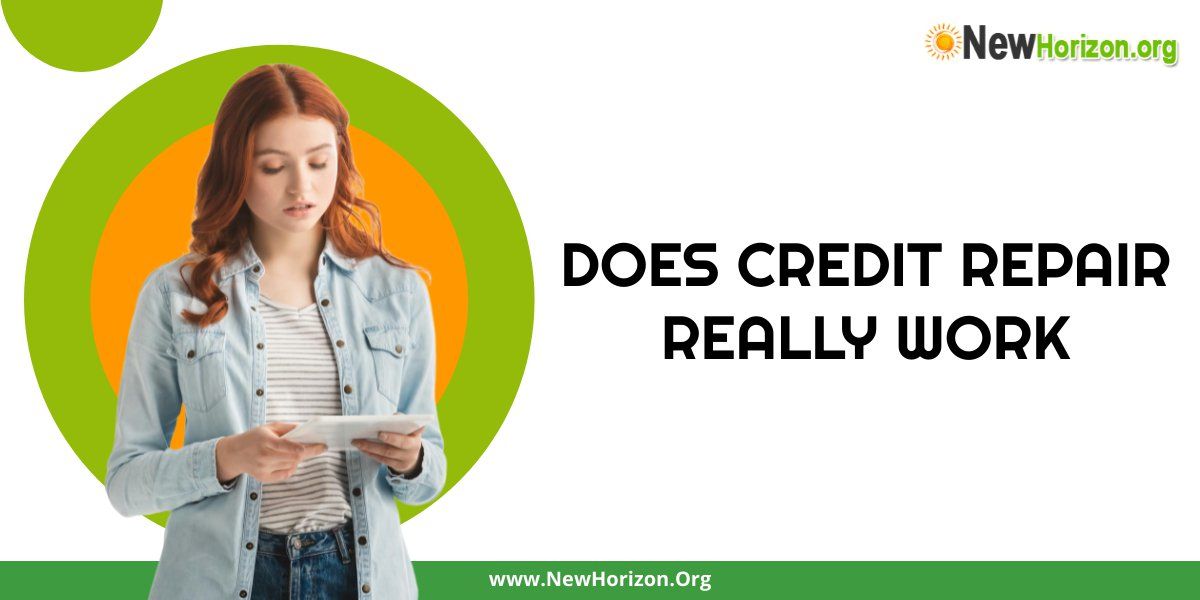 Does credit repair really work? Consumers who are eager to get their financial lives back on track after their credit score has taken a hit have asked this question countless times. Credit repair can sometimes seem like it couldn't possibly be the credit report magic eraser that it is frequently marketed as being.
However, hearing about the contradictory experiences consumers have had, reading the reviews, and browsing forum discussions about credit repair. Will leave you still asking the question, "Does credit repair work"?
We'll address this important question and offer useful guidance on how to raise your credit score to a reasonable level in the subsequent piece.
Knowing how credit repair works
The consumer who pays their bills on time is one of the elements that go into determining their credit score. Missing payments will lower their credit score, which makes it more challenging for them to get approved for credit cards and loans.
A low credit score may also result in higher insurance premiums and even make it more challenging to get employment or find housing.
The data in a consumer's credit report, which is often times erroneous or inaccurate, is used to calculate credit ratings. That may occur if creditors submit a piece of incorrect information to the credit bureaus or if a credit line is opened in the victim's name by an identity thief.
Credit repair is the process of attempting to fix these issues. There isn't much anyone—not even a reputable credit repair business—can do to change the information if it is true. Most of the time, it can stay on a credit report for up to seven years before being removed.
However, the consumer has the right to challenge any erroneous information in a credit report. Remember that there is nothing a credit repair firm can do for you that you couldn't accomplish on your own.
Check your credit reports on your own to make sure they are accurate since the procedure has always been free. But if the process overwhelms you or you simply don't have the time to invest in it, you can think about hiring a credit repair company to do it for you.
Why repair your credit?
Interest rates are increasing practically monthly. Improve your credit now to be eligible for loans and credit cards with cheap interest rates.
Making sure your credit score is correct has always been important. Your three-digit credit score runs from 300-850. Is used to determine your creditworthiness and ability to repay your financial obligations.
Your credit scores are also used by lenders to calculate the interest rate on these loans that you will have to pay. But these days, not just lenders use these scores to make financial decisions.
Employers are increasingly using applicants' credit histories to help them decide who to hire. People with bad credit may not be able to get the jobs they want.
When determining policy premiums, even insurance companies will pull your credit before giving you a quote.
What you can do to fix your credit
1. Request and review your credit reports – Obtain a copy of your credit report from each of the big 3 credit reporting agencies. Equifax, Experian and Trans Union is the first step in repairing your credit. After requesting your credit reports, carefully review each one to ensure that the data is accurate. Check your personal information, account information, bankruptcy and collection data for inconsistencies.
2. Dispute credit report errors – As soon as you discover any mistakes on your credit report, file a dispute.
Some types of disputable items
Outdated items – Items that are outdated are typically simple to repair. The majority of adverse things are only permitted to be on your credit report for a predetermined period of time before they must be deleted.
Erroneous items – The simplest form of item to contest is simply incorrect. This covers common mistakes that might lead to confusion or credit issues, such as misspellings or incorrectly reported numbers.
Unsubstantiated items – The accounts on your reports that cannot be supported by the information suppliers are commonly disputed items. The credit bureaus will delete a debt if they cannot demonstrate that it truly belongs to you.
Fraudulent items – If you've ever experienced identity theft, your credit reports can contain inaccurate information about fraudulent accounts. Even though these claims might initially appear to be true, further research frequently reveals their fraudulent origins.
3. Pay On Time – Your payment history makes up 35% of your credit score. So making sure you make all your payments on time should be a high priority. Missed payments will lower your credit score. To ensure that you never miss a payment again, set up autopay.
Does credit repair work?
It is a very classic "Yes, but…" scenario. Yes, certain negative things on your credit reports can be successfully removed through credit repair. But, it cannot remove accurate, verifiable information from your credit report and it doesn't instantly raise your credit score
It's a good idea to have a strategy in place for future credit growth and maintenance, regardless of whether you're doing your credit repair yourself or hiring a credit repair company to do it for you.
For more in-depth guides on how to improve your credit score, you can visit here to check out our Do It Yourself Credit Repair Course and software.