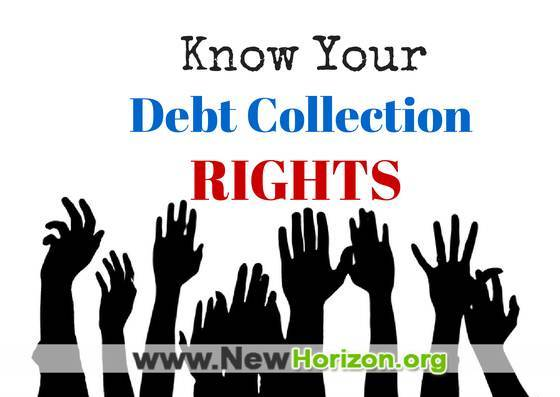 The Fair Debt Collection Practices Act was designed to protect
consumers from overzealous debt collection tactics that may or may not be considered harassive by some people. Understanding what your rights really are can make the debt collection process less scary and more effective for consumers who may have gotten behind on their bills and are looking for a way out. If you are behind in your payments and you need help, contact a debt counseling service right away; they will be able to show you how you can control your spending, reduce your debt and regain your financial freedom again.
They may also teach you how to start rebuilding again and get an unsecured credit card for bad credit which will help you rebuild your credit while paying off debtors on time.
Rules debt collectors must follow when dealing with consumers
I've summarized the  Fair Debt Collection Practices Act below.  But it will be to your best benefit to read the full Act online.
These are your rights and knowing them will enable you to recognize when they are being infringed upon.
A debt collector cannot:
Communicate with consumers in any way (other than litigation) after receiving a written notice stating that the consumer wishes no further communication or refuses to pay the alleged debt.
Contact consumers by telephone outside of the hours of 8:00 a.m. to 9:00 p.m.
Contact a consumer known to be represented by an attorney.
Communicate with consumers at their place of employment after being advised that this is unacceptable or prohibited by the employer.
Threaten arrest or legal action that is either not permitted or not actually intended.
Call or engage any person in phone conversation repeatedly or continuously: with intent to annoy, abuse, or harass any person at the called number.
Communicate with the consumer or the pursuing collection efforts by the debt collector after receipt of a consumer's written request for verification of a debt made within the 30 day validation period.
Pretend that he or she is an attorney or law enforcement officer.
Publish a consumer's name or address on a "bad debt" list.
Use abusive or profane language used in the course of communication related to the debt.
Seek unjustified amounts.
Report false information on a consumer's credit report or threaten to do so.
Communicate with third parties about the nature of debts (other than the consumer's spouse or attorney).
What to do if your rights are being violated
If you feel that your consumer rights are being violated by
debt collectors who don't follow the Fair Debt Collection Practices Act guidelines, there are a few things you can do.
You can send a letter to your attorney general advising them of the collection agencies practices.  Make sure you have some proof such as:

Dates and times they are calling
Date and time any violations have occurred

Seek legal counsel immediately so as to protect yourself and your finances.
Know your rights, understand them and use them when dealing with any type of debt collection.
Remember, the collection agency has given you written proof of your debt and it is no longer time-barred.  It will be in your best interest to start negotiations.  If you can, you should contact the original creditor and try to negotiate with them.