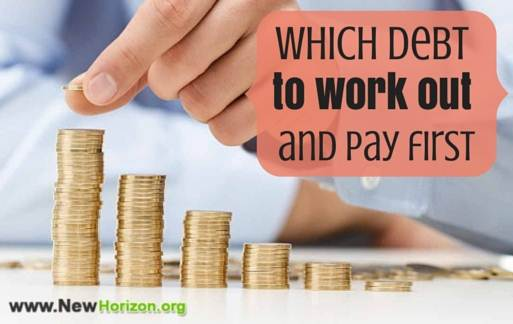 When faced with mounting debts and bill collectors calling demanding payment, many consumers struggle with which debt to pay first. While there is no single right answer that fits everyone, there are a few guidelines to help set priorities.
Which Debts Should You Pay Off First
When you are getting out of debt.  The first things you want to pay are your high-interest credit car
ds and loans. Making double payments on these debts would be great.  But even if you can pay an extra $50 that will go towards the principal.
Most people come to Newhorizon.org looking for ways to improve their credit.  So for the majority of our clients, the next debts they want to look at are the debts that are affecting your credit score the most.

If you are past due: set up a repayment plan w/ the creditors/collection companies.
When repaying old debt, negotiate and get everything in WRITING!  Never send a payment without an agreement in writing.  Make sure you negotiate a better tradeline status and if possible, try to reduce the amount owed.  It never hurts to ask them to waive late fees and even lower the interest rate so you can meet ALL your obligations. If the creditor later goes back on their word, you have something in writing clearly stating the agreement.
Invest in credit monitoring so that you can keep track of your credit score and watch how your debt repayment plan is impacting your credit!

Pay off your small balance debt – not only will it have a good effect on your debt to income ratio.  But you will get a psychological boost seeing paid-off accounts. Tip: Don't close credit card accounts recklessly.  They may be a big part of your credit score.  Read more about how to
Prioritizing Debt Repayments
Depending on which debts to pay off first also depends on your priorities.  In general, the following list will work for most people.  But like all things, you need to make it fit your lifestyle and your priorities.   I put student loans last because there are lots of hardship programs you can request that will allow you to stop paying your student loans for a set amount of time.
Mortgage
Child support
Taxes
Auto & Personal Loans
Credit Cards
Student Loans

Want to get out of debt fast?  Get organized!
Getting organized will always make ANY process easier.  There are many reasons why getting organized is important.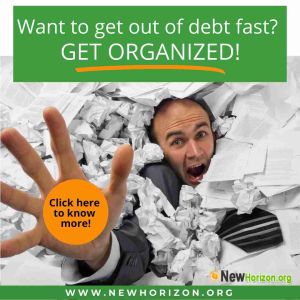 Being organized will:
Make you more productive.
Being organized can help you avoid stress. When your thoughts aren't organized, it can be difficult to focus on your work or tasks at hand.  Your mind doesn't know where to start
Being organized makes it easier for you to be strategic when creating your debt management plan
Make a list of your monthly expenses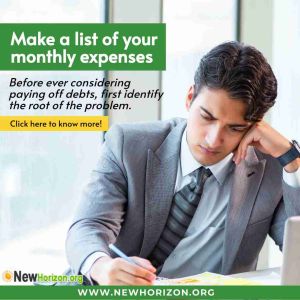 The first step is to know what you owe.  Make a list of all your debts.  You can do this in a simple spreadsheet.  When listing our debts make sure you include the interest rates you are paying and the repayment terms.   Don't forget a "financial cushion" you should include how much you plan on putting away in savings each month and make that a priority.
Now that you know how much you need to cover all your expenses, it's time to create a budget.
Create a budget
Can you tell the difference between want and need?  Begin by analyzing your spending.  A lot of credit cards companies will break down your spending on your statement.  Are you spending more than you thought in entertainment or impulse buys?
Separate out the necessities of life like rent, food, electricity, from the wants in life, like cable tv, your $6 a day Starbucks habit, and gym memberships.
If your goal is to get out of debt.  You must realize you will be cutting out a lot of the "wants" in life until you hit your goal.
Then look at your monthly after tax income.  This is what you have to not just pay your bills, but hopefully put a little away each month in savings.
Find ways to make more money
You need to look for ways to meet your monthly expenses AND pay down your credit cards. A few things you may want to implement would be:
Become a bargain shopper!  Clip coupons, don't buy brand names And depending on the size of your family.  Invest in a warehouse membership like Costco or Sams Club.  HINT: look on sites like Groupon for discounts on the membership fees for these clubs.
Get a 2nd job – put all that additional income into paying down your debt
Sell what you are not using.  There are a lot of sites where you can sell stuff you are no longer using or you just don't need.  There is Ebay for general merchandise and sites like Poshmark.com for high end items.  Whatever you have to sell, there is probably an online marketplace full of buyers!
Go old school and have a yard sale.  Want to go a step further.  Look for community yard sales.  The more people that can see your items for sale, the more likely you will be able to sell them.
Be creative!  One of my credit repair clients buys as many as 10 Sunday papers, just for the coupons!  She then spends her Sundays clipping coupons for items like baby formula, diapers, and other essential items.  She then buys them on double/triple coupon days! The beauty of this is that most of the time the items are ALREADY on sale.  She is buying them at a deep discount and selling them slightly below market! She resells them on Facebook marketplace.
Want to have 1 low-interest payment?  Consider a debt consolidation loan
Look into a debt consolidation loan.  If your credit is strong enough you can qualify for a low-interest loan that will allow you to pay off your high-interest debt.  And instead of sending many payments at many different interest rates.  You will have 1 low-interest payment!
If you can't qualify for a debt consolidation loan, you can contact your credit card companies.  See if any of them will increase your credit line and offer you a balance transfer rate.  You can move your high-interest debt to a low-interest credit card for a set time period.  What's great about this, is even when that time period is up, you can call to see about getting it extended.  OR you can use one of your other cards and do the same thing all over!
In conclusion, there are several types of debt that one can have. The order in which you pay off your debts is important, and there are a few different schools of thought on the matter.
Some people believe that you should start with the smallest debts and work your way up, while others believe that you should start with the highest interest rates. There is no correct answer, but whichever method you choose, be sure to stick to it!