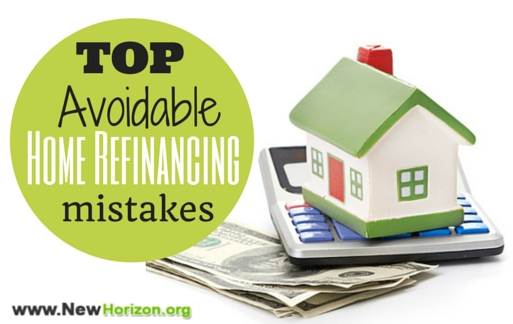 Many home owners find themselves in a disagreeable situation after refinancing their home loans.  Listed below are some home refinancing mistakes that consumers commit and can be easily  avoided:
Refinancing your home with your present lender without considering other home loan lenders. Sometimes, refinancing your home loan with the same lending company can get you a better deal.  Nevertheless, it is always worth the effort to check what other lending companies have to offer as you may find an even better deal somewhere else.
Not asking for the written good-faith estimate of your loan costs from your lender. The written good-faith estimate is a list of all costs associated with your home loan and should be handed to the borrower at least a week before the actual day of closing.  This way, you can be sure that there will be no unexpected fees or sudden changes to the costs when you sign up for the deal.
Hiring a home appraiser even if the value of your home is too low. If you are not sure how much your house is worth, you can use sites like Zillow.com to get a good idea.  There is no point in your paying for an appraisal.  Your lender will order one, and charge you for one, during the process of obtaining your refinance.
Thinking that the market value of your home will be based on your county tax-assessor's assessment. Your county tax-assessor's assessment can vary from that of the actual market value of your home so it's not a good idea to presume that both prices will be the same.
Not reviewing your new mortgage.  When refinancing your home loan, make sure that you read and understand each statement in your contract.  This way, unpleasant surprises can be avoided later on.
Not submitting your loan documents on time. To get a fast approval and avoid unnecessary delays, prepare all the required loan documents and submit them on time.
Not making sure that your loan has rate lock. Locking your loan's interest rate is a very crucial step as it protects you from unexpected increases while you are in the middle of your refinance.
Relying on verbal agreements. Never trust any verbal agreement you may have had with your home loan lender.  It can be an honest mistake if a lender quotes you over the phone a lower interest and little to no fees.  Or it can be a blatant lie.  And your lender has no intention of making good on the claims they are making.  Either way, you can avoid a lot of stress by making sure everything being promised is in writing!
Signing up for a lender just because of cheap rates. Always remember that aside from the interest rate, there are other fees involved with a home loan.  There is the credit check, appraisal, and many varied fees.    Sometimes in order to get the cheap rate you were quoted, you had to buy a point.  That should be disclosed before you sign the final paperwork.  In order to make a good decision, you should have all fees disclosed, in writing.