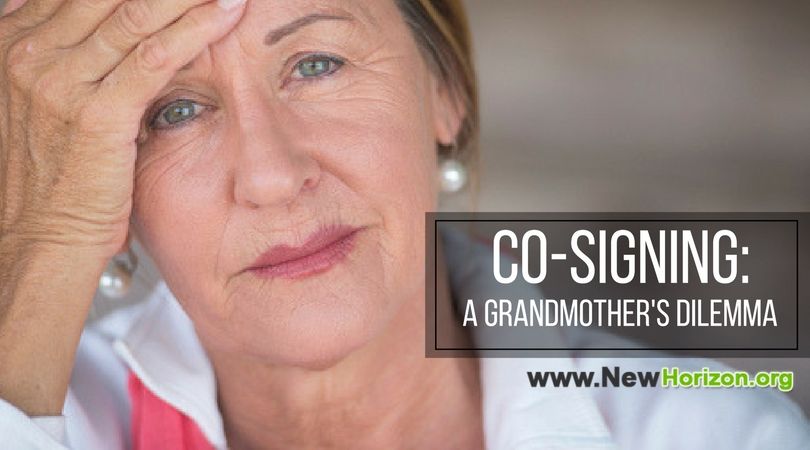 It may be surprising for others to learn that co-signing for anything means they are willing to assume the debt should the person they co-signed for defaults.
I probably get questions 2 or 3 times a month from our mailing list from people who have never had credit problems in the past and now do because they co-signed and are facing court cases.
Or their credit has been negatively affected by a judgment being placed against them.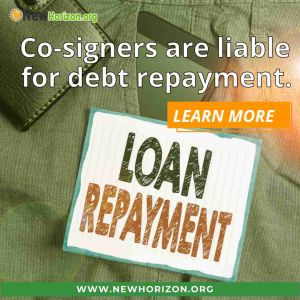 The idea of co-signing on a loan with someone you know may seem like a good idea at the time, but in reality it can come back to haunt you.
If the person who took out the loan defaults on payments, you are liable for repayment. You also have no recourse if they decide to file bankruptcy or simply do not pay anything for an extended period of time. Do not take the risk and always decline to co-sign on a loan.
A Loving Grandmother co-signing woes
So this month we had a woman who had a credit score in the 800s. She co-signed for her grandson on a condo near his school. It was in a very nice building with security and a nice view.
It was 3 bedrooms and he would have 2 roommates. With all of them paying the cost of the condo was only $200 more than what his parents had budgeted for his room and board. So he got a job near the condo and would be able to cover the $200 and pay for his own food.
So she co-signed. What she didn't understand was that she wasn't just vouching for her grandson. She signed on the lease that had all 3 college students on it.
Fast forward 7 months and things in the condo are not going well. Lots of conflict between the room mates and then they start to move out. Long story short her grandson does all he can to find others to take over the lease but is unsuccessful.
As he approaches his second month delinquency he reaches out to family to see if anyone can help him pay the rent. Unfortunately, its outside of his families means and his grandmother is on a fixed income. He advises the landlord he cannot pay and moves out.
Although the landlord is able to rent the apartment quickly. He goes after them for the back rent, and damages done to the condo that go beyond that of normal wear and tear.
Now she is being sued for $8700 and felt that if she is liable for anything, it should only be for her grandson's part of the rent.
What could she have done to protect herself?
Insist that the landlord create a separate lease for her grandson and herself. That way she would have been only responsible for her grandsons portion of rent and damages.
Landlords don't really like writing these sort of leases. Especially when it's a group of roommates and not a family. By signing a blanket lease the way she did, she essentially co-signed for all 3 boys.
Can they legally sue her for that much money
Another thing she has to understand is the lease is governed by the state the landlord stipulates. She should check the lease, to make sure. But most landlords write leases for the state they are in so that if they have to sue a renter, they can do it locally. Without having to travel. Each state has different small claim court limitations. In the state of Virginia, where she lives its $5,000. But the condo is in Chicago. So the small claims limitations is $10,000.
What to do now
She should probably get a lawyer in Illinois to help her. I can only say that if you don't settle this, it will negatively affect her credit score. And since she cosigned basically for all 3 , they can indeed sue her.
I'm sure once they are in court something can be worked out. After all there were 2 other people living there. But I don't really know and advised her to seek legal advice.
What you should take away from this experience
Co-signing is dangerous! Not only to your credit but yes, you can be sued for what someone else has done. If you are in the situation like the grandmother above, you must INSIST on having your own lease with just you and your family member / friend on it.
If the landlord won't agree to that, then have your loved one find another place. Or insist that the other room mates get co-signers also. Don't be the lone person on the lease that has their credit or assets to lose.
As a rule of thumb, you should never co-sign for something if you can't pay for it.  If your loved one makes the dreaded call to tell you they will be late or can't make the payment.
Reasons why co-signing is a bad idea
A person who co-signs a loan is legally obligated to repay it if the borrower fails to do so
When your friend / family member defualts, thus ruining your credit and landing you into a financial hardship you may not be able to get out off.  Your relationship will be ruined
You can be sued for someone elses obligation
Its very difficult to remove yourself from being a co-signer. After all the bank wants the most dependable person on the loan / credit.
Your access to new credit will be limited.  Lets say you co-sign on a personal loan then you need a new car.  The dealership will look at that loan and include it in your debt to income even though you tell them you don't have to pay on it.  They have to look at the worse case scenerio where your friend / family member leaves you paying for the debt
If you decide to be someone's co-signer. Stay approachable!
Before you cosign, you should have an agreement with the person you are co-signing for that if for any reason it looks like they will not be able to make the payment they will call you immediately.
Then you will make the payment.
Yelling about it may make them reluctant to tell you they are in trouble. If it becomes a habit, you may want to get them to refinance the debt and get your name off it .
Or if you co-signed an annual rental agreement, don't sign when it comes time to renew. In fact, read the lease and see when you must alert the landlord that you won't be on the new lease.
Make sure you send the landlord a certified letter telling them you will not be co-signing again and want to have your name removed from the lease.
Credit building tip:  Did you know that you can report up to 2 years of your rent on your credit report? If you have been making on-time payments this is a great way to give your credit score a boost!