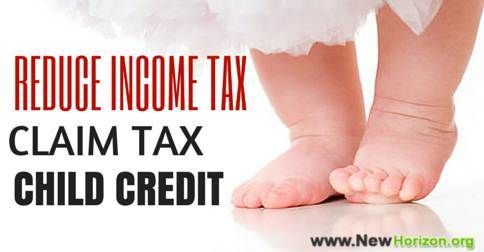 Child Tax Credit is an allowance provided for parents and guardians who are responsible in taking care of a child. In order to qualify for Child Tax Credit, a person must have a child that meets the requirements and he or she must have a gross income that does not exceed the allowable amount.
A child may qualify whether he is a US citizen or a resident alien if:
he is declared as a dependent;
he is 16 years old and below;
he shares the same residence as the applicant for more than half a taxable year; and
he is related to the applicant by birth, marriage, adoption or foster arrangement (son, daughter, niece, nephew, foster child, stepchild, sister, brother, stepsister, grandchild, etc.)
With regards to the gross income, here are the requirements:
those who are single guardian or single parent of a child, gross income must not exceed $75,000;
those who are "married filing jointly" gross income must not exceed $110,000; and
for those who are "married filing separately" gross income must not exceed $55,000
If the gross income exceeds these amounts, a person may still be eligible to receive Child Tax Credit. However, the amount he will be receiving will then be adjusted depending on his gross income.
Why should you claim Child Tax Credit?
Claiming Child Tax Credit can help reduce your federal income tax. In fact, you can save up to $1,000 on your taxes for every child you qualified who is under 17 years of age. If the amount you will get from your Child Tax Credit is greater than your tax liability, you may be totally exempted from paying your taxes. However, you can also file for a Child Tax Credit refund if you think that there's a huge difference between the amount of your Child Tax Credit and your federal income tax. You can avail of this refund by filing Additional Child Tax Credit using the Form 8812.
How to File
To apply for Child Tax Credit, one must file the Form 1040, Form 1040A, or Form 1040NR. Child Tax Credit forms and information are available from the web from the Internal Revenue Service's official website at http://www.irs.gov/taxtopics/tc606.html. The qualifying child's tax identification number (TIN) or Social Security Number must be provided. If you have more than one qualifying child, make sure that you provide each of their TIN or SSN.
Once qualified, the parent or the guardian will be receiving the Child Tax Credit payment either through his bank account, the Post Office, or through a National Savings account. A parent can choose the mode of payment he prefers which can either be weekly or monthly.
The Child Tax Credit is scheduled to end after the year 2010 unless the Congress chooses to extend it or make it permanent. To get more information, you can also check out the IRS Frequently Asked Questions on Taxes and Child Tax Credit at http://www.irs.gov/faqs/faq7.html or http://www.irs.gov/individuals/article/0,,id=121434,00.html.