SBA7a
ESTABLISHED BUSINESS SBA LOAN
WHAT IS THE SBA 7(A) LOAN
The SBA 7(a) program is the primary loan program provided by the Small Business Administration-approved lender. This program was designed to help small businesses that otherwise could not obtain a conventional bank loan.
Minimum loan amount is $30,000 and up to $350,000. Loan approval is within 3 days and the actual payouts can be as fast as 7 days after application & documentation is complete.
7(A) LOAN TERMS, FEES & COLLATERAL NEEDED
Repayment terms on the SBA 7(a) loan program is usually up to 25 years for real estate, the purchase of large machinery / equipment (fixed assets) and 5 to 10 years for working capital. The interest rate starts at 6.25% up to 7.25%. Interest rates can be variable or fixed (depends on your lender). You can pay off the loan early with NO penalty Lenders like to see fixed assets (equipment, machinery, real estate) as collateral. They will usually ask for personal guarantees from the principals of the loan and may place liens on personal property & assets.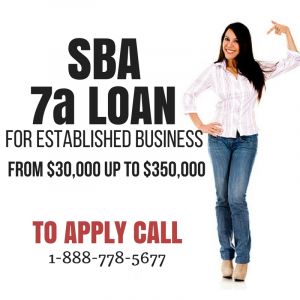 IS YOUR BUSINESS ELIGIBLE FOR SBA LENDING?
The SBA will not provide a guarantee for loans used for investment or speculative purposes.
Generally 95% of all businesses are eligible for SBA financing. You must be a for profit organization. If you are a retail or service business and your annual sales are under $21,000,000 or a wholesale company with less than 100 employees, you maybe eligible. The size of your business will also be a factor in the lenders decision as to whether or not you qualify for SBA financing.
WHAT LENDERS ARE LOOKING FOR IN POTENTIAL SBA LOANS
When reviewing a loan package for possible SBA lending, a lender would like to see:
Good Credit

 (A – C+) – initial credit review is done with a SOFT credit pull.
A good business plan
Sufficient investment from the owner ( SBA likes to see a capital infusion of 25% – 30% – although we have been able to obtain funding for our clients with a 10% capital infusion)
Collateral (fixed assets, equipment, real estate)
Business must be showing a positive cash flow
2 years time in business – NO STARTUPS
No Bankruptcy or Foreclosures within the past 3 years
No prior defaults on government backed loans
No outstanding liens
Must be a US citizen
CAN BE USED FOR THE FOLLOWING:
Working Capital
Equipment financing
Business expansion
Debt refinancing
Business Acquisition
SEND YOUR SBA LOAN APPLICATION HERE
OUR OTHER FINANCING PROGRAMS